In the south-serbia mountains near the town Trgovište, another of our foreign realizations was finished there, project of the Small Hydro Power Plant Pročovci 1.
Water facility consists of the water intake facility and DN 1300 plastic feeder to the power plant building. There are two turbosets instaled with spiral Francis turbines with an output of 700 kW and 300 kW. Both machines are equipped with synchronous generators TES Vsetín.
Acceptence of turbines in the production plant: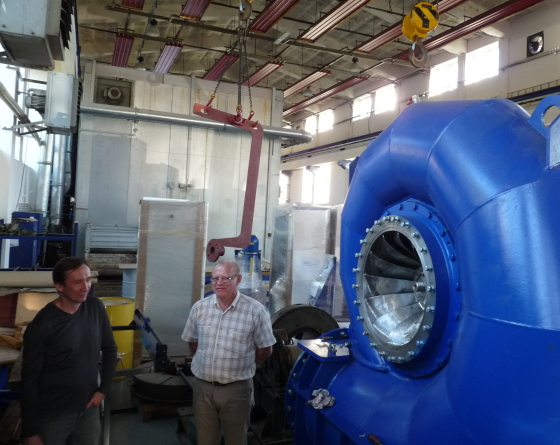 The building part of the power plant was finished this spring and instalation of the turbosets and equipment for electricity distribution, measurement and regulation started immediately. So the handover of the power plant has already taken place in symmer this year.
Placing the turbine to the machine room of the SHPP: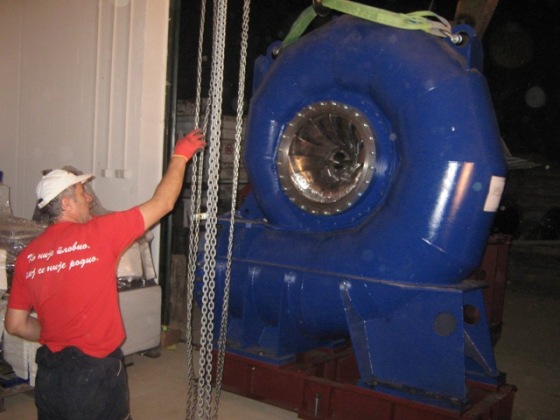 Hybrid controller HONEYWELL HC900 proved itself in previous SHPPs such as SHPP Bakov upon Jizera, SHPP Ptýrov as well as previous SHPP on the river Tripušnica SHPP Pročovci 1. Here it is used as the main control system.
It is acompanied by a pair of combined protections WOODWARD MFR13. Selfmade synchronizers SY2 complemented by a synchrocheck CIRCUTOR SYNCHROMAX provide safe connection of generators to the power grid.
Software HONEYWELL Experion HS R400 provides displaying of operating data to the user and their archiving. Operator can not only wath current state of the machinery but he can also walk through and analyze historical data thanks to the extensive set of the tools for graph drawing and for creating of tabular statements from operational events.
Programmable control unit UNITRONICS V570 with 5.7" color touch screen placed on the door of the MaR switchboard is used for vizualization of the current state of the machinery.
View to the machine room of the SHPP during operational tests of the unit: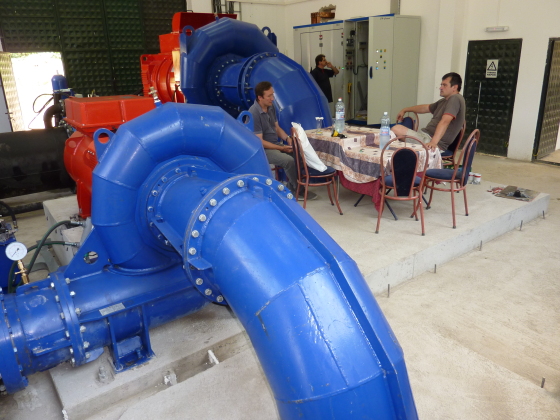 Working place of the programmator during operational tests:
Area of the SHPP is continuously monitored by digital camera system with automatic image recording in case of violation of the monitored zone by an unauthorized person.
Remote access to the current state of the machinery is supported via VPN technology through internet. GSM modem Cinterion TC65i automaticaly sends alarm and information SMS to the power plant operator, facility manger and to the HV distribution service staff for fast informing about current state of the SHPP.
View to the HV substation: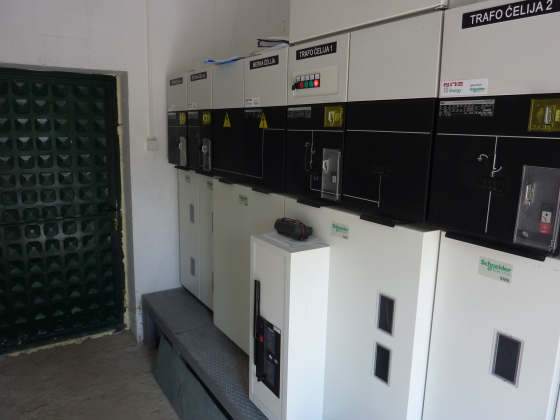 View of the SHPP building shortly before completion. From the right side there is visible water feeder pipeline: